Blend & Bubbles Combo Case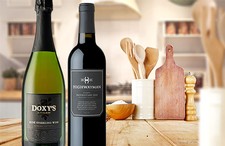 Start off with a little bubbly then move into a big rich red with our Blend and Bubbles combo case. Take advantage of this fantastic discount and receive 6 bottle each of:
Doxy's Sparkling Rosé
Because bubbles are just way too FUN
Our Doxy's Sparkling Rosé is sure to please the party and your upcoming Holiday needs. This Pinot Noir, Pinot Meunier and Chardonnay cuvee yields a light pink hue, vibrant effervescence with hints of white peach and farm fresh strawberries. Spoiler alert…opening one usually leads to another.
and
2017 Highwayman Proprietary Red, Sonoma Valley/Sonoma County
Best in Class – 2020 Sonoma County Harvest Fair
This Man in Black was our first ever Highwayman released back in 2006. Since then, the wine has emerged as a flagship for us. It is comprised of a melodic blend of Cabernet Franc, Cabernet Sauvignon, Merlot, Malbec and Petit Verdot, a Meritage in the truest sense. The recent Best of Class award validates our quest to produce a 'best of vintage, vineyard and varietal' each year.