2021 Camino de Sonoma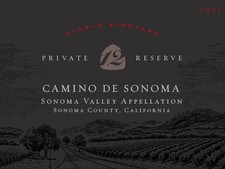 The road through the heart of our Sonoma Valley during the Alta California period (upper California) was known as 'Camino de Sonoma.' This road connected the locals from downtown Sonoma towards the west, traveling through the various ranchos and provided the foundation for our famous wine highway we know know as Highway 12. This Special Release red wine pays homage to the original road that paved the way for our Sonoma Valley wine-growing heritage.
This new (we're hand-labelling it as we speak) limited offering red wine is rich, bold and lush. The blackfruit and plum compote sing on the entry and mid-palate while the tanned leather and mocha notes tread lightly but long on the finish. For those of you who recall...this is reminiscent of the awesome Reserve Blend from back in the day! Pairs beautifully with soy ginger salmon over scallion rice and spicy green beans. Drinks exceptionally well now (aka: crack it open) or cellar incredibly well for 5-7 years.