Double Barrel 1.5
SPECIAL LIBRARY RELEASE!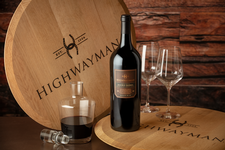 Introducing the 2014 Highwayman 'Double Barrel' -- a Library Release never been done before. All this and in a 1.5 liter bottle, each label is numbered as we made only 100! Are you number one?
Aged in new French oak, this specially crafted Bordeaux-style blend has been aging away in 2 barrels, biding its time for nearly 8 years, waiting for the perfect moment in time to reveal itself. It's soft and relatable--simply a gorgeous sipper. This wine has been nurtured throughout its cellar againg, changing barrels every 1.5 years to impart the right warmth and character to this exceptional 2014 vintage.
This is made up of the five Bordeaux varietals, Cabernet Sauvignon, Cabernet Franc, Merlot, Petite Verdot and Malbec. A super-stunner for sure. Sharp lookin' large format bottle of wine! Amazing addition to your holiday table, the wine cellar or makes an awesome, impressive gift! Spectacular with a beautiful braised pork osso buco.