Franc & Fume Combo Case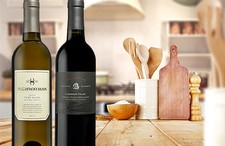 A great combo for any meal! Take advantage of this great price and pick up this combo pack that contains 6 bottles each of:
2015 Highway 12 Reserve Cabernet Franc, Sonoma Valley/Sonoma County
A boutique release – only 250 cs produced
Known as the 'softer side' of Cabernet Sauvignon, this 2015 vintage release is no exception. An exceptional vintage and 100% Cabernet Franc reveals a silky elegance and lush fruit. French oak aged for 28 months.
and
2018 Highwayman Fumé Blanc, Sonoma Valley/Sonoma County
Sommelier Selection – 2020 Signature Sonoma Valley – 150 cs produced
This micro lot is a single vineyard offering from the MacLeod Family vineyard situated in the quaint village of Kenwood. We allocate a small portion for this program where the wine is finished for three to four months in new French oak. Complex and clean, the wine finishes with a hint of vanilla and bright acidity.