Tailgate Tasting Featuring Highwayman Wines!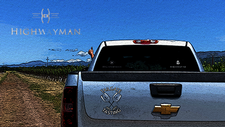 This is the gift to yourself (or anyone else) to add some FUN to this nutty 2020 summer!
Introducing the our Tailgate Tasting Series! We're highlighting 3 wines, specially hand-picked by the Highwayman Ambassadors of FUN--to enjoy in a casual tasting with Paul and the team!
Be sure to order early so you're ready for our Virtual Tailgate Tasting via Zoom on July 23rd at 4PM (pst). Invite your close friends over and hang out outside with us to enjoy some great wines on a beautiful summer evening!
Featured Wines:
Highway 12 Sauvignon Blanc, Highwayman Trailblazer, Highwayman Proprietary Red
Shipping Note:
Please be sure to order your wines so they will arrive in time for the tasting. We are offering drastically reduced overnight shipping for only $15 per order. You can also arrange to pickup your wines at the Tasting Parlor if that works better for you. ***If you want to add wines to your order please call or create a new order--adding to this package may override the 15.00 Overnight price!